Adult Services & Programs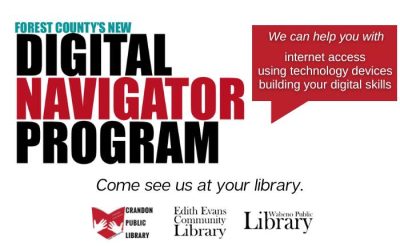 Need cheap internet? Need help using a phone or laptop? Come see the Forest County Digital Navigator at your public library. Weekly help hours and a monthly technology skill building class at the Crandon, Wabeno, and Laona public libraries. Print this Digital...
read more

ADRC Aging and Disability Resource Center
Experts for senior citizens looking for social activities, meals on wheels, housing assistance and more.
Call your Forest County Team at 715-478-2162
Just walk in: Someone is available to show you around and tell you about our programs and other community resources.
Email: adrc@forestcountydss.com
Call: Local: 715-478-2162 Toll Free: 800-699-6704
300 South Lake
Crandon, WI 54520
Crandon Public Library
110 W. Polk Street
Crandon, WI 54520
Phone 715-478-3784
Hours
Monday/Tuesday 9 a.m. – 5 p.m.
Wednesday/Thursday 9 a.m. – 7 p.m.
Friday 9 a.m. – 5 p.m.
Saturday 9 a.m. – Noon